The late Bomet Governor, Joyce Laboso's husband, Edwin Obonyo, on Friday, relived what happened at The Nairobi Hospital, just minutes before she died.
Speaking during the late governor's second memorial service at Bomet County, he disclosed that Pastor Owuor, who is based at the hospital, came in to perform a ritual on Governor Laboso's body.
"Just before Joyce died we were all in hospital, then Owuor came, he said he was appointed by the hospital to be helping people. So he came and anointed Joyce. He said he had some oil he had come with from Egypt," Edwin recalled.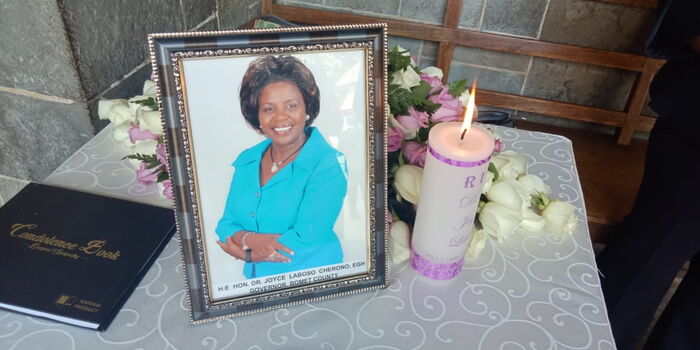 Using gestures, he explained that the reverend smeared the oil on her forehead, and her chest.
"In a span of 20 minutes, Joyce was gone, so I thank him because he prayed for us at that time," Obonyo spoke.
The family had held a second requiem mass for the late county boss, after a similar one was conducted on Thursday, at the All Saint' Cathedral, Nairobi.
Her body was then airlifted to Bomet for another service where local residents would be able to attend.
Though President Uhuru Kenyatta was unable to attend the service in Nairobi, he jetted in for the ceremony at Laboso's home county.
President Kenyatta, who chaired a meeting at State House, on Thursday, emphasised the need to prioritise cancer screening and treatment.
He also honoured Laboso and the late Kibra MP Ken Okoth by leading the Cabinet in observing a moment of silence for the departed leaders.